Safe travels
1190 miles one way for a race? Yes, please. Sure, some paddlers might hesitate. I believe that ultimately, it was worth it for every Gorge Canoe Club member who traveled to Another Dam Race in Arizona at the beginning of November. It wasn't just about a race when our group of paddlers from the Columbia Gorge traveled from the ever chillier and grayer Gorge to sunny Arizona for the race. It was about adventure, camaraderie, making new friends, and yes, testing our mettle against the Colorado River and other outrigger canoe paddlers under perfectly clear skies with nary a Douglas Fir tree in sight.
One vehicle cranked out the trip in just over 24 hours, another one took a couple days. I flew to Las Vegas and met them. Some of us camped in La Paz County Park, while others crashed in a vacation home another club rented. After practicing Friday afternoon, we retired to the campground for grub and rest. The evening was enlivened by a rock crawler annual event known as Desert Splash in which participants, like so many monster trucks, did their best to clamber up and over a pile of three junked vehicles in the middle of the campground. It seemed a slow and noisy yet serious adrenaline burn.
Race day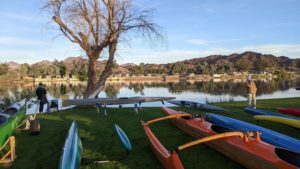 Saturday morning, two canoe crews represented the Gorge Canoe Club in the race. Denise Emmerling-Baker and Josh Baker paddled an OC2 on the short course, while Jonathan Stocker, Jerry Stotonic Allison, and Jerry Pimaboy Allison (aka the J Team), worked a V3 on the long course. Both canoes were on loan from the ever helpful Joey Alvarez, director of ARE Outrigger World. This easy generosity is a fabulous trait of outrigger canoe culture, amplifying the notion of the paddling Ohana, or family, which enticed us all.
After a chaotic start for the newbies in the placid waters of the Colorado, the race was underway. It was a blast for all involved. At one point we passed a riverside bar, and although it was relatively early in the day, the patio seemed full of spectators cheering the paddlers. The race, however, was not without mishaps. Both GCC teams hulied (flipped) in quirky fashion, but they managed to right their boats and complete the races fast enough to get awards in their divisions.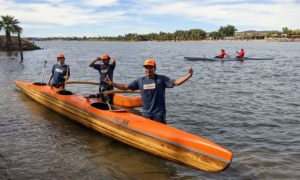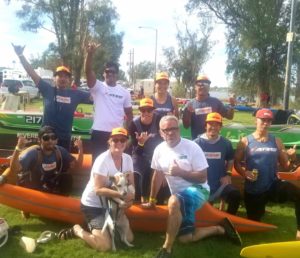 Then the relaxation
After the race, there were awards and participants and supporters alike enjoyed a yummy casual lunch in the grassy park like setting–the jerk chicken warp was delicious. That evening, there was a luau complete with talented hula dancers, a fire dancer, ample food, and wise words from Uncle K, aka Kimokeo Kapahulehua, who also signed copies of a new children's book about him, "A Special Kind of Family."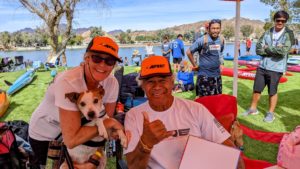 After the luau, GCC members were invited to a house party with people from southern California's Castaways club. It did not disappoint. A young girl danced and drummed along with Jerry. Someone strummed a guitar. There were amazing stories about races and life, and new friendships begun with hugs and laughter. The river outside was beautiful by moonlight. We got smudged. It was a fitting end to a special trip.
After a fun weekend, I felt we had new friends, and we encouraged people from other canoe clubs to visit the Gorge when the weather warms up. The water will be fine. It may be a long way, but Gorge Canoe Club will do our best to make sure it's worth it.